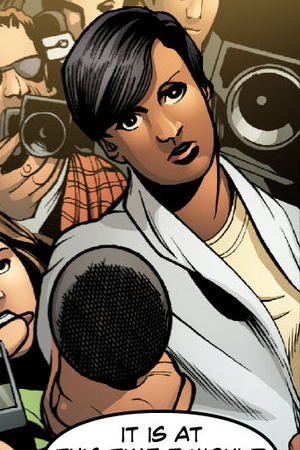 Angela Chen
Angela Chen
Personal Info
Full Name:
Angela Chen
Vital Statistics
Status:
Alive
Species:
Human
Abilities:
Journalism
Hair Color:
Black
Eye Color:
Brown
Additional Information
Number of Issues:
2
Angela Chen a news reporter for News Channel GNN.
Early life
Edit
Nothing is known about the early life of Angela Chen.
In the Comics
Edit

Angela Chen first appeared in the animated TV series "Superman: The Animated Series" and hasn't been introduced into the mainstream comic books at this point. In "Superman: The Animated Series" she worked as a top reporter for the Daily Planet.
The Smallville version of Angela Chen is her first appearance outside of the DC Animated Universe.
Ad blocker interference detected!
Wikia is a free-to-use site that makes money from advertising. We have a modified experience for viewers using ad blockers

Wikia is not accessible if you've made further modifications. Remove the custom ad blocker rule(s) and the page will load as expected.