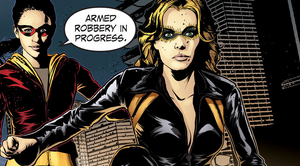 Dinah Lance
Personal Info
Full Name:
Dinah Laurel Lance
Nickname:
Dinah Lance
Title:
Black Canary

Vital Statistics
Status:
Alive
Species:
Metahuman
Hair Color:
Blond
Eye Color:
Green
Additional Information
Number of Issues:
1
Comic Appearances
Appearances
First Appearance
Hollow
Last Appearance
Only One Issue
Dinah Lance is also known as the superheroine Black Canary. She was a talk show host who worked for the Daily Planet before she became a member of the Justice League.
Powers and Abilities
Edit
Early Life
Edit
On the TV Series
Edit
In the Comics
Edit

Dinah Lance was portrayed by the actress Alaina Huffman and was a recurring character between season seven and season ten.
Ad blocker interference detected!
Wikia is a free-to-use site that makes money from advertising. We have a modified experience for viewers using ad blockers

Wikia is not accessible if you've made further modifications. Remove the custom ad blocker rule(s) and the page will load as expected.