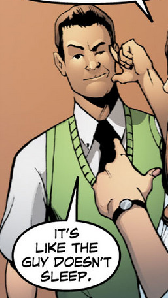 Jeff Hage
Personal Info
Full Name:
Jeff Hage
Vital Statistics
Status:
Alive
Species:
Human
Hair Color:
Brown
Additional Information
Job:
Intern at the Daily Planet
Number of Issues:
1
Comic Appearances
Appearances
First Appearance
Detective: Part 1
Last Appearance
Only One Issue
Jeff Hage is an intern at the Daily Planet.
In the Comics
Edit
Jeff is trying to figure out what it is about Clark that has people so attracted to him. He is caught at Clark's desk by Lois who informs him that Clark is very busy.
"Those eyes. What is it about them? Those damned steely-blue dreamboat eyes. Innocent, pure...it's like he's a puppy... ...a puppy with secrets." - Detective: Part 1
Ad blocker interference detected!
Wikia is a free-to-use site that makes money from advertising. We have a modified experience for viewers using ad blockers

Wikia is not accessible if you've made further modifications. Remove the custom ad blocker rule(s) and the page will load as expected.