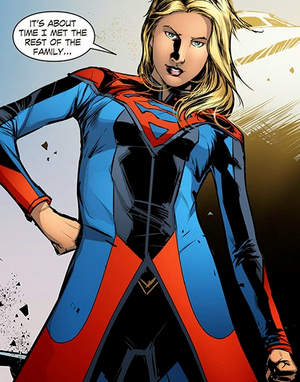 Kara Kent
Personal Info
Full Name:
Kara Zor-El
Maiden Name:
Kara Kent
Other Names:
Kara Zor-El
Title:
Supergirl

Vital Statistics
Status:
Alive
Race:
Kryptonian
Hair Color:
Blond
Eye Color:
Blue
Family
Parents:
Zor-El †
unnamed mother †
Additional Information
Job:
Caretaker
Number of Issues:
4
Kara Kent is the cousin of Clark Kent and one of the survivors of the planet Krypton.
In the Comics
Edit
Powers and Abilities
Edit
"Clark, I wasn't a prisoner... ...I'm a spy." - Argo: Part 2
Ad blocker interference detected!
Wikia is a free-to-use site that makes money from advertising. We have a modified experience for viewers using ad blockers

Wikia is not accessible if you've made further modifications. Remove the custom ad blocker rule(s) and the page will load as expected.