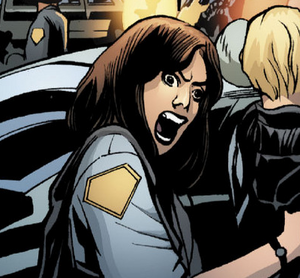 Maggie Sawyer
Personal Info
Full Name:
Maggie Sawyer
Title:
Captain Sawyer

Vital Statistics
Status:
Alive
Species:
Human
Hair Color:
Brown
Eye Color:
Blue
Additional Information
Number of Issues:
2
Maggie Sawyer is a captain of the Metropolis Police Department and works with Dan Turpin.
On the TV Series
Edit
In the Comics
Edit

Maggie Sawyer was portrayed by the actress Jill Teed. She first appeared in the second season of Smallville and became a minor recurring character until season seven.
Ad blocker interference detected!
Wikia is a free-to-use site that makes money from advertising. We have a modified experience for viewers using ad blockers

Wikia is not accessible if you've made further modifications. Remove the custom ad blocker rule(s) and the page will load as expected.