Smallville Locations
S.T.A.R. Labs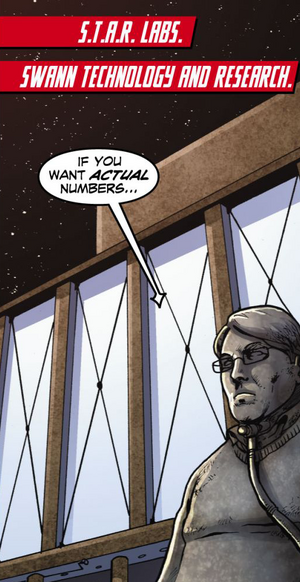 Geographical Info
Located In:
Metropolis
Nickname:
S.T.A.R. Labs
Title:
Swann Technology And Research
Additional Info
Status:
Active
Number of Issues:
5
S.T.A.R. Labs, also known as Swann Technology And Research, is a research facility founded by Virgil Swann as a means of helping The Traveler develop his abilities.
Technology
Edit
Known Staff
Edit
Former Staff
Edit
Early History
Edit
On the TV Series
Edit
In the Comics
Edit

The full name of the S.T.A.R. Labs was changed for the Smallville continuity. In the mainstream comic books, S.T.A.R. Labs stand for Scientific and Technological Advanced Research.
Ad blocker interference detected!
Wikia is a free-to-use site that makes money from advertising. We have a modified experience for viewers using ad blockers

Wikia is not accessible if you've made further modifications. Remove the custom ad blocker rule(s) and the page will load as expected.