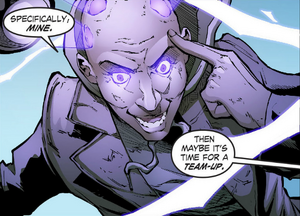 Simon Jones
Personal Info
Full Name:
Simon Jones
Vital Statistics
Race:
Human
Powers:
Telepathy & Telekinis
Additional Information
Job:
Criminal
Comic Appearances
Appearances
First Appearance
Haunted: Part 1
Last Appearance
Only One Issue
Dr. Simon Jones is a intelligent criminal with extraordinary telekinetic and telepathic abilities who refers to himself as Psimon. He first appears at the third story arc Haunted of the digital/print comic Smallville: Season 11 .
Ad blocker interference detected!
Wikia is a free-to-use site that makes money from advertising. We have a modified experience for viewers using ad blockers

Wikia is not accessible if you've made further modifications. Remove the custom ad blocker rule(s) and the page will load as expected.