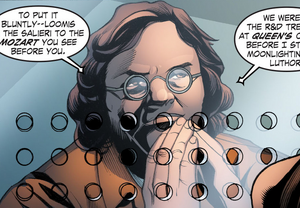 Winslow Schott
Personal Info
Title:
Toyman

Vital Statistics
Status:
Alive
Species:
Humans
Abilities:
Refined dexterity
Hair Color:
Brown
Additional Information
Number of Issues:
2

Winslow Schott, dubbed the Toyman by the media, is a toymaker, terrorist, and former Queen Industries employee. He also established Marionette Ventures.
On the TV Series
Edit
In the Comics
Edit

Winslows date of birth is January 24, 1985.
He used to live in 305 Monty Street, Metropolis.
Winslow worked for Oliver at least two and half years. He started work at Queen Industries in July 2001 and was being fired in Novmber 2003.
Winslow Schott was portrayed by the actor Chris Gauthier and was a recurring character during season eight til season ten.